March 22nd, 2020
European River Memorandum adopted on World Water Day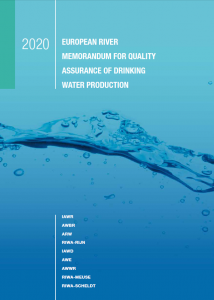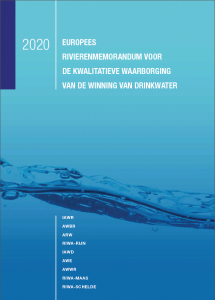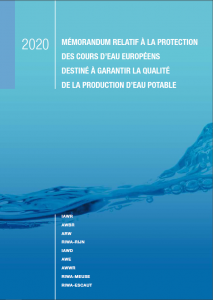 European Coalition of Drinking Water Suppliers sees Natural Treatment of Drinking Water endangered and calls for Compliance with Target Values in Watercourses as adaption to Climate Change
The ERM coalition has adopted the European River Memorandum 2020 (ERM). The ERM Coalition comprises the associations of drinking water suppliers in the major European river basins of the Danube, Elbe, Meuse, Scheldt, Ruhr and Rhine, inhabited by 188 million depend on clean drinking water. In the memorandum, the suppliers set out target values for watercourses, which are indispensable as minimum quality standards for a sustainable drinking water supply.
Prof. Dr. Matthias Maier, President of the International Association of Waterworks in the Rhine Basin, IAWR, points out the current situation of drinking water suppliers: "The greatest threat to the long-term provision of clean, natural drinking water is the contamination of water resources with chemicals. A large number of substances are introduced into the water cycle by human activities. From the water suppliers' point of view, the inputs are not sufficiently controlled. In some cases, the substances can only be removed to a limited extent with existing drinking water treatment technologies. Climate change is changing the water cycle, therefore the remaining drinking water resources must be protected more intensively in order to adapt."
Maier emphasises what is now imperative: "If we do not act now, this development will lead to a widespread introduction of cost- and energy-intensive and thus climate-damaging end-of-pipe technologies in waterworks. This is not a solution in the sense of future generations, but an unacceptable paradigm shift away from the prevention of pollution to the acceptance of pollution at its source. This contradicts the objectives and recitals of the European Water Framework Directive".
In the European River Memorandum, the coalition partners derive strategies that are required to meet the target values. For effective water protection, politicians and administration must implement consistent measures: transparency in the discharge of substances, strict approval criteria for chemicals, and making those responsible for micropollutants accountable.
A first success in the sense of the ERM coalition could already be achieved on 13 February 2020 at the Rhine Ministerial Conference in Amsterdam. The responsible ministers of the European riparian states agreed on the "Rhine 2040" programme, in which a concrete reduction objective for micropollutants of at least 30 percent by 2040 for the first time was set, with a review and, if necessary, increase after 6 years.
"The 'Rhine 2040' programme is a starting signal in the spirit of the ERM and must become a model for all European river basins. Only in this way can we secure drinking water resources for the next generation," the coalition partners agree.
The European River Memorandum is available in 4 languages:
it can be downloaded here in German, English, Dutch and French.
The entire Press Release can be found here.